4.2 Front panel, microSD card and reset button access.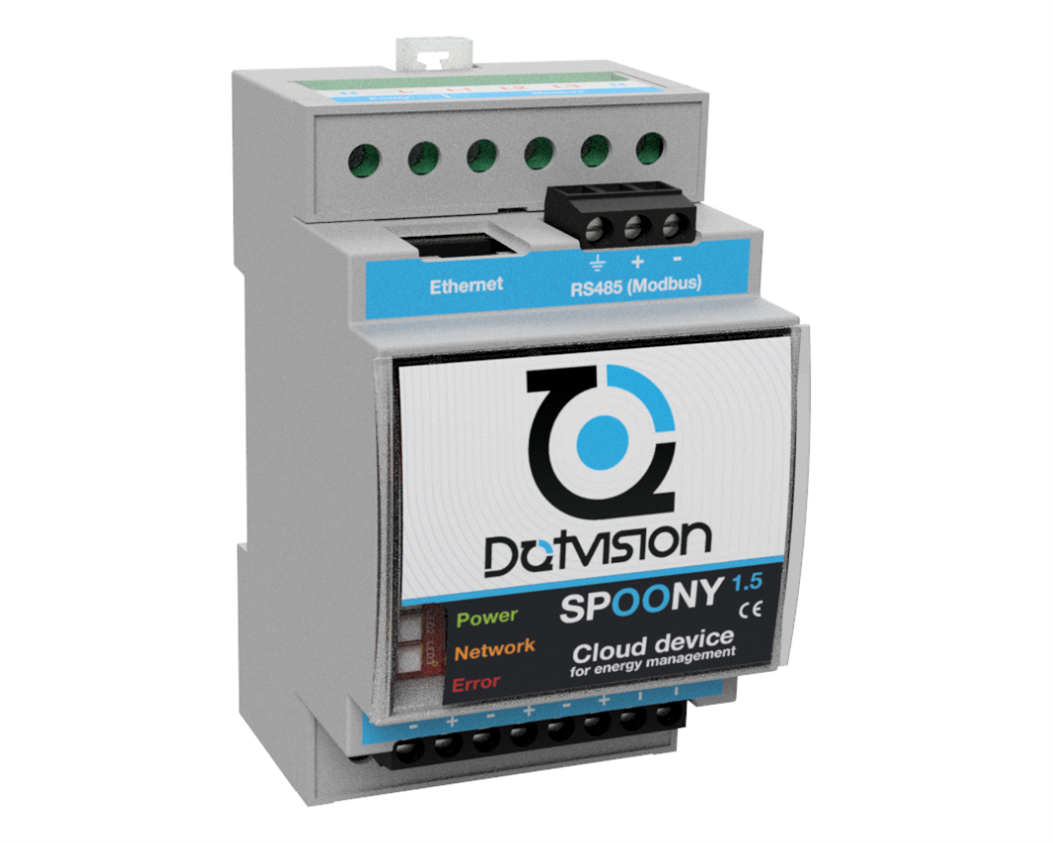 Visual characteristics of actual product may differ. Colors and terminals type may differ for older or newer revision of the product.
1 Presentation
Spoony by DotVision can be described as an Energy Edge Gateway, a single device holding key functionalities for energy monitoring:
Single and three-phase energy measurement,
Network connectivity allowing direct connection to a storage server (cloud-based or on-premises),
Local data storage,
Data aggregation thanks to integrated MODBUS client functionality (Option - RS485 and TCP) and TIC demodulator functionality,
Control-command with 3 integrated open-drain outputs suitable to drive up to three relays.
Spoony integrated software is based on BluePanda operating system by DotVision, providing unprecedented flexibility in terms of configuration and product customization. Contact DotVision for any question related to product customization or new protocols integration.
2 Technical specifications
Product name

Spoony

Manufacturer

DotVision

Size

90 x 60 x 53mm

Format

DIN-rail mount module, 53mm width (3 ½ modules).

Compatible with Omega type rails

Environmental

IP20

Casing material

ABS

Power supply input range

80-270 VAC, 50-60Hz. 0.2A max

Temperature range

-10°C to 60°C

Humidity

Max 80% non-condensing

Certifications

Standard conformity to European Directives (CE) for low voltage and CEM, ROHS, REACH

Voltage measurement inputs range

400Vpp Line to Neutral, 800Vpp Line to Line

Input impedance: ≥ 2MΩ

Current measurement mode

Indirect, through current transformers or Rogowski coils

Current measurement inputs

Current transformers version: ±100mA, Impedance: 5Ω

Rogowski coils version: ±250mV, Impedance ≥ 380kΩ

Current measurement range

Depending on current transformers or Rogowski coils choice. Refer to sensor datasheet.

Electrical Network type

Single-phase or three-phase electrical networks, with or without neutral 1.

Measurement Bandwidth (-3dB)

IRMS, power: 14kHz

VRMS: 260Hz

Measurements update frequency

1Hz for all measurements

Metering IC

Analog Devices ADE7758

Connection

Power and voltage measurement: screw terminals, 0.2 to 1.5mm²

Current measurement: push terminals, 0.1 to 0.75mm²

RS485, TIC, relays: screw terminals

Network: RJ45

Accuracy

RMS voltage measurement: 1% over 20:1 dynamic range

RMS current measurement: depending on current sensor choice. Typical 1% over 20:1 dynamic range for sensors provided by DotVision 2.

Active power/energy measurement: depending on current sensor choice. Typical 1% over 20:1 dynamic range for sensors provided by DotVision 2.
Figure 1 – Technical specifications
Note 1: A neutral connection may still be required for powering the device due to the limited input range of power input.
Note 2: Devices provided by DotVision are always calibrated together with provided current sensors for optimal accuracy. Accuracy is not guaranteed if current sensors are replaced without proper calibration. Consult DotVision if you need to change the current sensors provided with the device to determine if a calibration is required.
3 Terminals' description
Terminals' pinout is indicated onto the product. Pinout is available here for convenience: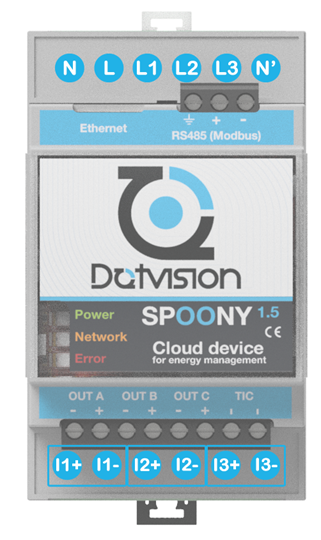 Figure 2- Main terminals' pinout
N, L: Power supply inputs. 80 to 270 VAC, 50-60Hz
L1, L2, L3, N': Voltage measurement inputs. Refer to next chapter for details
Ix+ / Ix-: Current measurement inputs (x = 1, 2 or 3)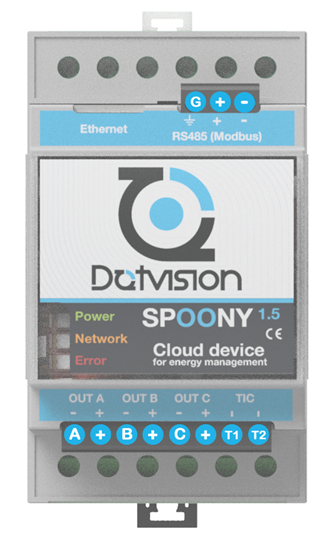 Figure 3- Auxiliary terminals' pinout
A, B, C: Open-drain relay outputs
+: +12V outputs
T1, T2: TIC demodulator input
4 Device front panel
4.1 Light indicators
Device front panel includes three LED indicators which give information on the device status.
These LEDs are labelled as follow:
Power - Green
Network - Orange
Error – Red
The following list summarizes possible states for the LEDs:
Blinking: the LED is ON for 500ms and OFF for 500ms,
Flashing: the LED is OFF for 2000ms and briefly ON for 80ms,
On: the LED is continuously ON,
Off: the LED is continuously OFF,
X: the LED state is undefined.
The related device status is given in the table below:
POWER

NETWORK

ERROR

Device Status

Blinking

X

X

The device is initializing.

If network connection is not configured on the device (Data logger mode), the device will stay in this mode

Flash

X

X

The device is running and has established a network connectivity since its startup

X

Off

X

Network connection is down

X

On

X

Network connection is up. If DHCP is activated, the device obtained a valid IP lease

X

X

Blinking

MicroSD card is not properly inserted, or device configuration is invalid
Figure 4- LEDs indicators signification
4.2 Front panel, microSD card and reset button access
Device's front panel can be lifted from the bottom side to access microSD card and the reset button, as shown in the figure below:

The following figure shows front panel's key elements: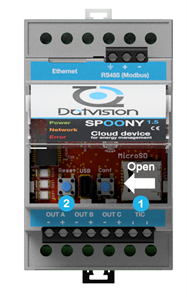 1 – Micro SD card holder. MicroSD card is extracted by sliding the connector cap in the direction indicated by the arrow.
2 – Reset button. Press this button to restart the device. Reset is required after a firmware update for example (see chapter 4.12).
Figure 1 – Technical specifications
Figure 2- Main terminals' pinout
Figure 3- Auxiliary terminals' pinout
Figure 4- LEDs indicators signification